ABA-VB Therapy & Training
How Can Applied Behaviour Analysis (ABA Therapy) in Hong Kong Help My Child?
ABA training, also known as Applied Behavior Analysis in Hong Kong, is an intensive, structured teaching program which simplifies complex sets of behaviors and skills into simple components. During ABA Therapy in HK, children learn each component through trials which tests to see how they respond to a stimulus (eg: a sound or object), and correct responses are rewarded while incorrect responses are ignored.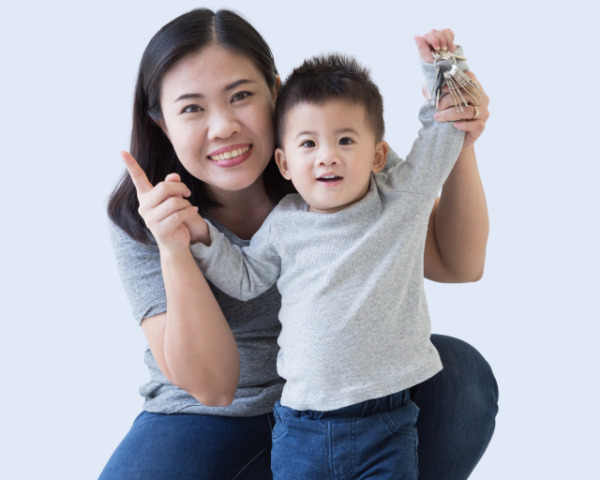 At the start of ABA in Hong Kong, therapists use physical rewards such as food and toys until they become paired (ie: associated) with these rewards. Gradually, the ABA HK therapists would also use social rewards such as hugs and praise in conjunction with physical rewards during this children behavior problem training in Hong Kong. Over time, ABA Hong Kong therapists will raise the difficulty for earning the rewards and eventually replace the physical rewards with the social ones. As the child learns more and more components through Applied Behavior Analysis in Hong Kong, they can be generalized and then combined into useful skills.
ABA training is the only therapy for autism endorsed by the U.S. Surgeon General. ABA therapy HK programs often require up to 40 hours per week of one-to-one children behavior problem training in Hong Kong over a continuous period of 2 or more years. Based on groundbreaking research published by psychologist B.F. Skinner and his colleagues, ABA therapy was successfully used in 1967 to treat the disorder. ABA in Hong Kong and abroad became popular in 1993, after extraordinary gains were documented ("Long Term Outcome for Children with Autism Who Received Early Intensive Behavioral Treatment" by McEachin, Smith, & Lovaas) as well as the publication of Catherine Maurice's book ("Let Me Hear Your Voice") about her two children's recovery after ABA therapy.
ABA-VB Training Teaches Functional Language Through Verbal Behavior (VB)
Applied Behavior Analysis (ABA training) in Hong Kong is an evidence-based method of teaching, which utilises rewards (ie: reinforcers) in the ABA therapy process to educate appropriate behaviors and responses during children behavior problem training in Hong Kong.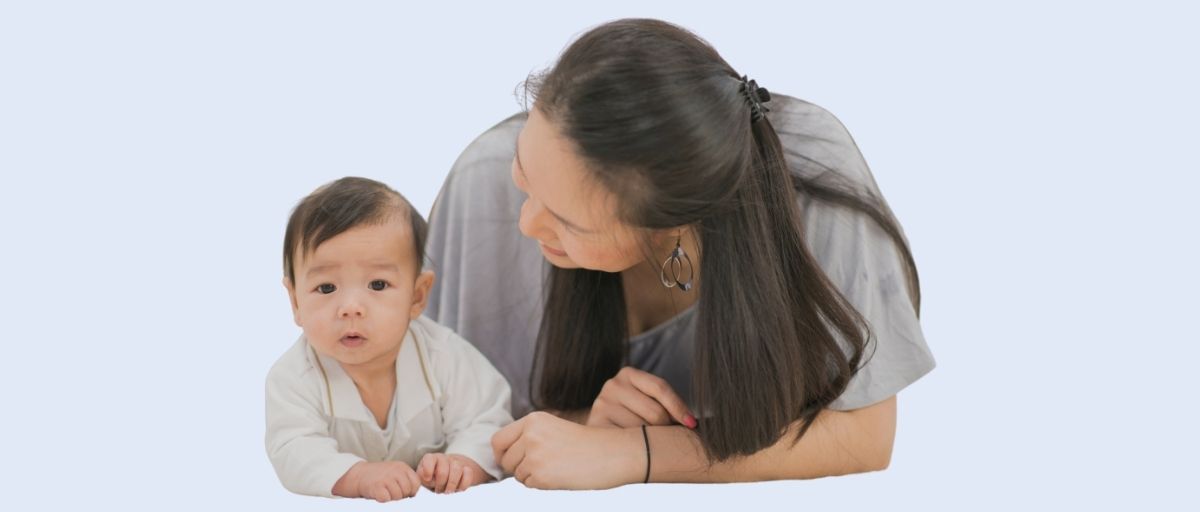 Our ABA Hong Kong therapists break down skills into their smallest components, allowing the child to master simple skills. These simple skills acquired through ABA training are then used as the foundation to build towards more complex skills. Over time, our ABA HK therapists will reduce the number of reinforcements so that the child no longer needs constant rewards to learn.
Verbal Behavior (VB) is based on the work of a pioneering psychologist, B.F. Skinner, who described the process of learning through the consequences of behavior. Building on this basic foundation of psychology, applied behavior analysis in Hong Kong remains the most researched and scientifically proven treatment available for autistic children.
In ABA-VB therapy, we place an emphasis on Verbal Behavior (VB) to ensure that the child truly understands what he/she has learned. This is in contrast to traditional ABA in Hong Kong, which emphasizes on the child performing specific, desired behaviors.
Our Pioneering ABA-VB Therapy in HK
"What's in it for me to speak with other people?"
 – This is the question that ABA-VB aims to help children understand using the principles of ABA therapy in HK. In the traditional approach used by most other ABA HK therapists, if the child can name and point to a cookie, the ABA HK therapist will assume that the child has already understood what a cookie is. That is not good enough for us.
Our pioneering ABA-VB approach makes use of traditional ABA training principles and teaching procedures, alongside the VB methods of teaching language, based on its function and the motivation of an individual. Our intensive ABA training sessions are conducted in unique, engaging and interesting forms, because it is our goal to motivate our learners to want to learn.
Unlike traditional ABA in Hong Kong which tends to get the child to sit through an otherwise boring lesson to achieve a reward, the Verbal Behavior Approach to Applied Behavior Analysis (ABA-VB) in Hong Kong aims to demonstrate to the child the value of communicating in words. This makes sense when we observe that children's initial language use usually serves their desire to obtain something from someone.
Our ABA therapy in HK provided for a child may range from 15 hours, or up to 40 hours for an intensive ABA training programme. Our ABA therapy lessons are usually arranged in 3-hour sessions. Typically, the duration of ABA HK treatment is around 2 years, or until support is needed. The hours needed for ABA in Hong Kong would depend on the specific learning needs and goals of your child.
Our Individualized Educational Program (IEP) for your child follows the WebABLLS/ABLLS-R (Revised Assessment of Basic Language and Learning Skills), and AFLSonline/AFLS curriculum and focuses on enabling your child to acquire critical communication, learning and functional skills through ABA training.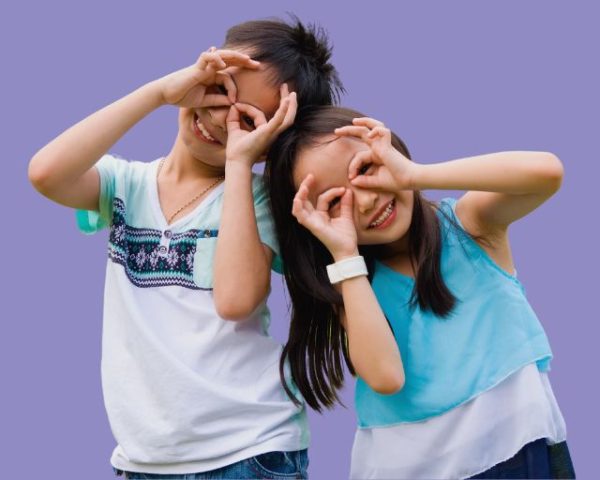 Beyond Robotic Children Behavior Problem Training in Hong Kong – Motivation Comes First
Unlike other types of ABA therapy and children behavior problem training in Hong Kong used by many providers, we do not aspire to just train children to give robotic responses.
Our ABA HK program sees motivation as a powerful key to shape your child's behavioral issues and communication skills. Your child will learn through ABA therapy that appropriate expressive language is useful to them to get what they want. Here's how our applied behavior analysis Hong Kong program goes beyond robotic therapy and other children behavior problem training in Hong Kong: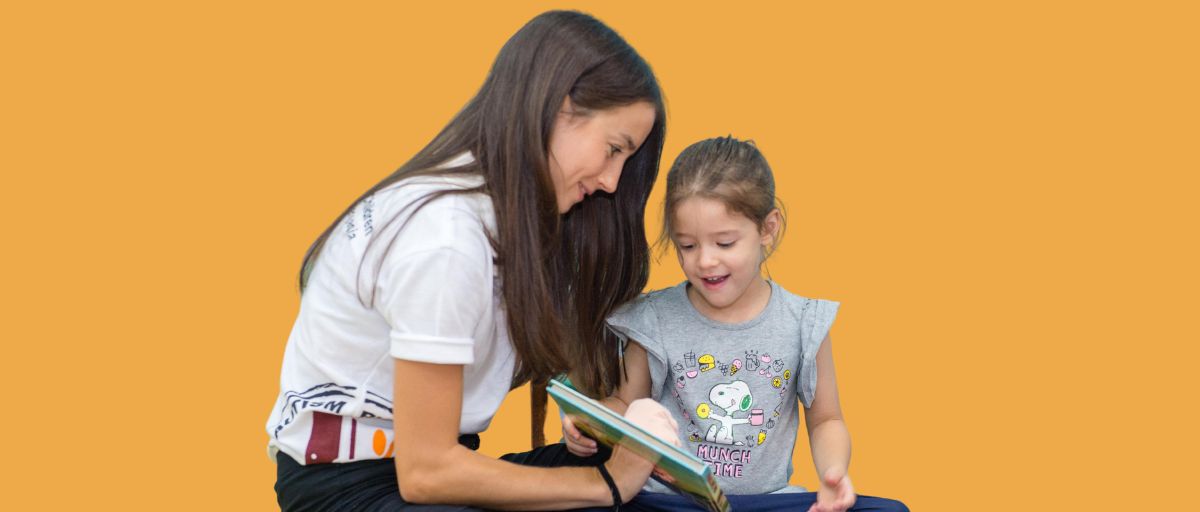 Communication Skills Learned During ABA-VB Therapy
In ABA-VB therapy, the child starts by learning to mand – requesting for desired items, information and activities. During ABA therapy, care is also taken to teach the child to mand the desired object only when they are naturally expressing interest, such as manding for snacks when they are hungry. This is unlike traditional ABA training, which does not care if the child is interested or not. As the child becomes more motivated and competent with language during ABA therapy in HK, other aspects of language are also introduced and reinforced while maintaining his motivation:
   

Receptive repertoire:

following instructions non-verbally

   

Intraverbal:

verbally responding to other people's speech

   

Tact:

Describing, naming or labelling objects

   

Echoic:

Repeating other people's speech

   

Imitation:

Copying observed behaviour

   

Textural:

Reading skills

   

Transcriptive:

Writing skills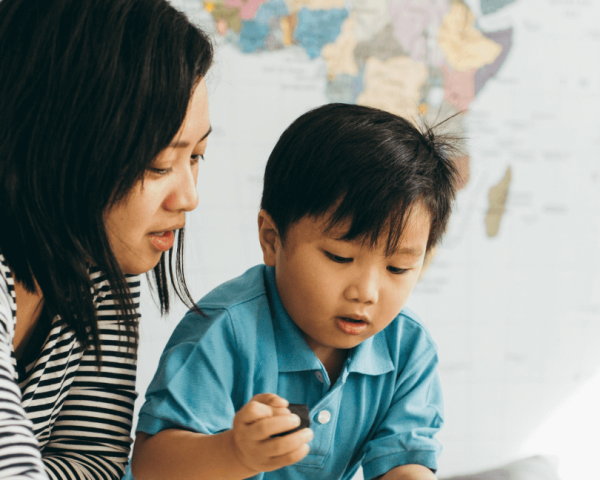 In ABA-VB training, we also require the child to:
1. Ask for a cookie when it is wanted (mand)
2. Find the cookie when it is asked for (receptive)
3. Select a cookie if asked:
What do you eat? (function)

What has chocolate chips? (feature)

Find the food (class)
4. Answer questions about the cookie when it is not present: (intraverbals)
Tell me what you eat.

What has chocolate chips?

What's crunchy?
Going beyond memorizing definitions and correction of patterns in children behavior problem training in Hong Kong (which traditional ABA in Hong Kong considers sufficient), the end result of our ABA therapy is a child who understands words and uses speech actively in his/her daily life. This type of ABA training provides a firm foundation for the child to eventually lose his/her diagnosis, and enter the mainstream educational system.
Comparing ABA-VB Training & The Traditional Approach
| | | |
| --- | --- | --- |
|   | ABA-VB Therapy | Traditional ABA Therapy |
| Language Acquisition | Faster language acquisition through early emphasis on functional language. By teaching language for obtaining reinforcers (ie: mands), this ABA HK approach encourages faster language acquisition; the child would learn that using language is valuable for obtaining their favorite items or activities. | Language training is more limited. Children are taught receptive (comprehension) and expressive language during ABA in Hong Kong. |
| Reinforcement & Motivation | Ongoing emphasis on capturing motivation. We recognize that a child's desire for certain items or activities change over time. A simple example would be a child losing interest in obtaining cookies once they are full. Thus, constant monitoring during ABA therapy in HK is required to sustain a child's motivation for learning. | Insensitive to changes in a child's motivation to obtain a particular reinforcer. |
| Mode of Instructional Delivery | Natural environment teaching. Varied instructions, and natural modes of teaching are utilized during ABA therapy in HK, so that children would find it easier to respond in different situations. | Distraction-free environment. Short & rigid instructions during intensive ABA training. |
| Teaching Procedures | Discrete trial & natural environment teaching. Interspersed trials. Fluency training. Error-less mode of ABA HK teaching. Correction procedures. | Intensive, discrete trial teaching during ABA in Hong Kong. No-no-prompt sequence. Model-prompt-switch-repeat. |
1-On-1, Intensive ABA Training
At our ABA Hong Kong centre, we seek to empower your child to reach his or her maximum potential through our applied behavior analysis Hong Kong program, which equips him or her with the right set of tools to enter mainstream education. We have our Board Certified Behavior Analysts, Registered Behavior Technicians and highly qualified ABA Hong Kong therapists, who can astutely tap into the learning needs of children and enable them to lead more fulfilling lives.
If your child has special educational needs, then the best option you have at your disposal is ABA training. Our ABA Hong Kong therapists are well-versed in the ABLLS-R (Revised Assessment of Basic Language and Learning Skills) curriculum, which essentially is an assessment tool to help them gauge a child's abilities and skills. Our IEP aids us in creating a well-structured ABA training plan for your child who may be suffering from cognitive or language delays.
The ABLLS-R curriculum as a part of our ABA training program is a revised edition of the original ABLLS, designed by Dr. Mark L. Sundberg and Dr. James W. Parrington. The 2006 revised version of the assessment has improved the measurement of some of the original abilities and skills during ABA therapy. Moreover, it has developed a sequence of section progress and developmental order and can help in determining the following in children:
Communication and language abilities

Motor skills

Self-help skills

Social interactions

Academic abilities
By conducting this assessment, our therapists conducting your child's ABA training can get an understanding of the potential obstacles that could be standing in the way of your child's learning. This part of the ABA therapy helps them to identify the necessary skills that their child has to build in order to effectively communicate and interact with the world around them. Helping children acquire vital life skills is a fundamental focus of our ABA training program — something that our ABA HK therapists consider with dedication and seriousness.
Our ABA training program's detailed ABLLS-R criteria-referenced assessment is most commonly used for training children diagnosed with ASD, or who have other developmental delays and disabilities that are impeding their academic and social growth. However, it is suitable for anyone who experiences or has experienced delayed development of basic communication or life skills, and not just children behavior problem training in Hong Kong.
The ABLLS-R assessment of our ABA training program is divided into two books that work together to help our ABA Hong Kong therapists accurately assess your child's current skills. We use the ABLLS-R Protocol to assess your child's performance. On the other hand, Our ABA HK therapists follow the ABLLS-R Guide to get information on the features of the assessment, how to accurately score different items, and the methodology to set IEP goals through WebABLLS.
Our goal behind conducting the ABLLS-R assessment during ABA therapy in HK is to get a holistic understanding of your child's skill set. Each child has the ability to acquire and hone new skills, but some of them may require external assistance to set off their latent ability. This is exactly what we seek to offer through our intensive ABA training by observing your child's behavior in each of the prescribed 25 skill areas. This is a complete applied behavior analysis in Hong Kong for your child's behavior, which provides insights into what needs to be done.
For instance, there's a "Motor Imitation" section in the ABLLS-R, where the ABA HK instructor must make physical movements and actions and then record your child's ability to imitate them successfully. The "Labelling" section is another example of one of the areas of ABLLS-R assessment in which the ABA HK instructor records your child's ability to name and classify different objects and groups of items.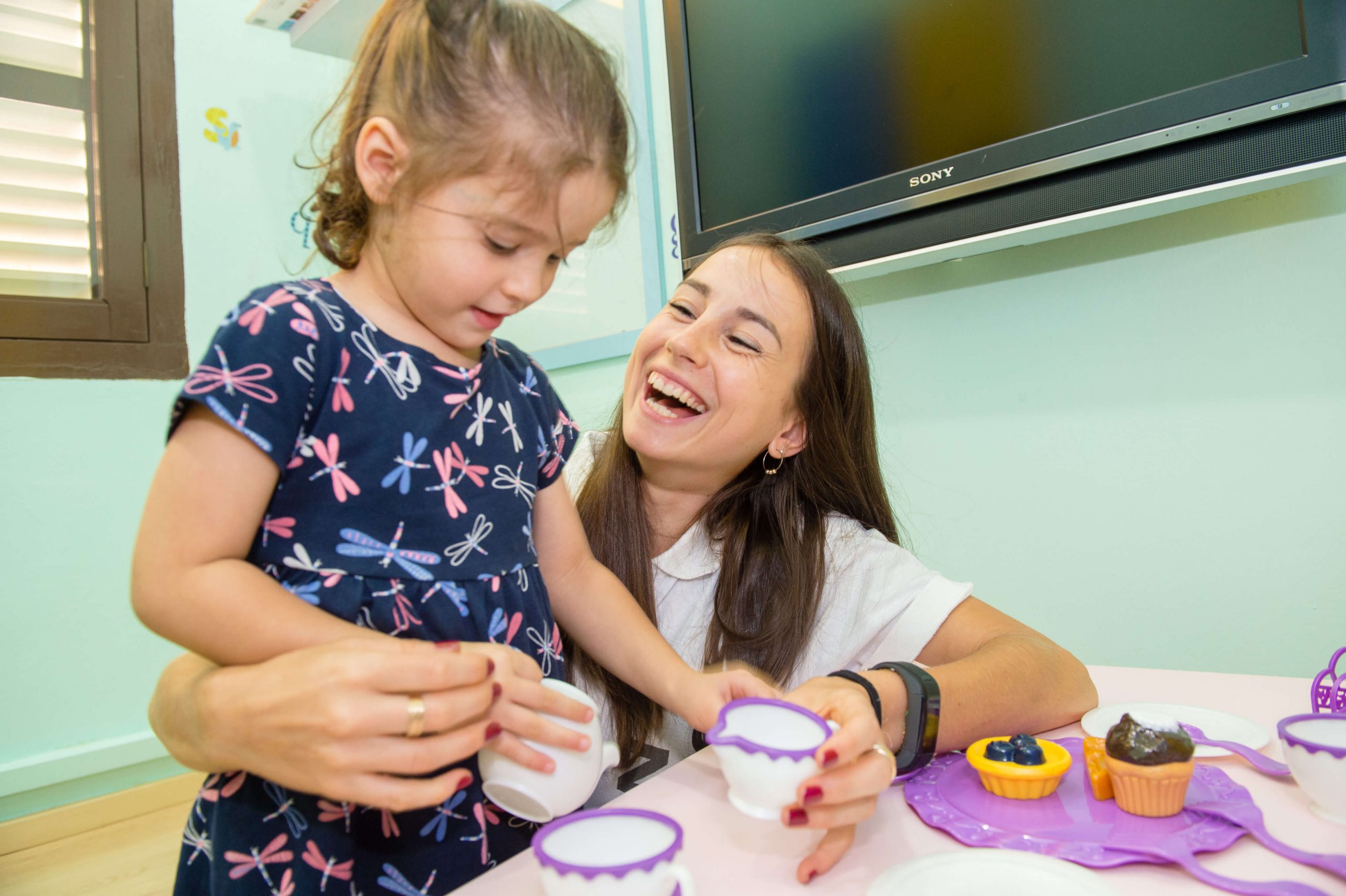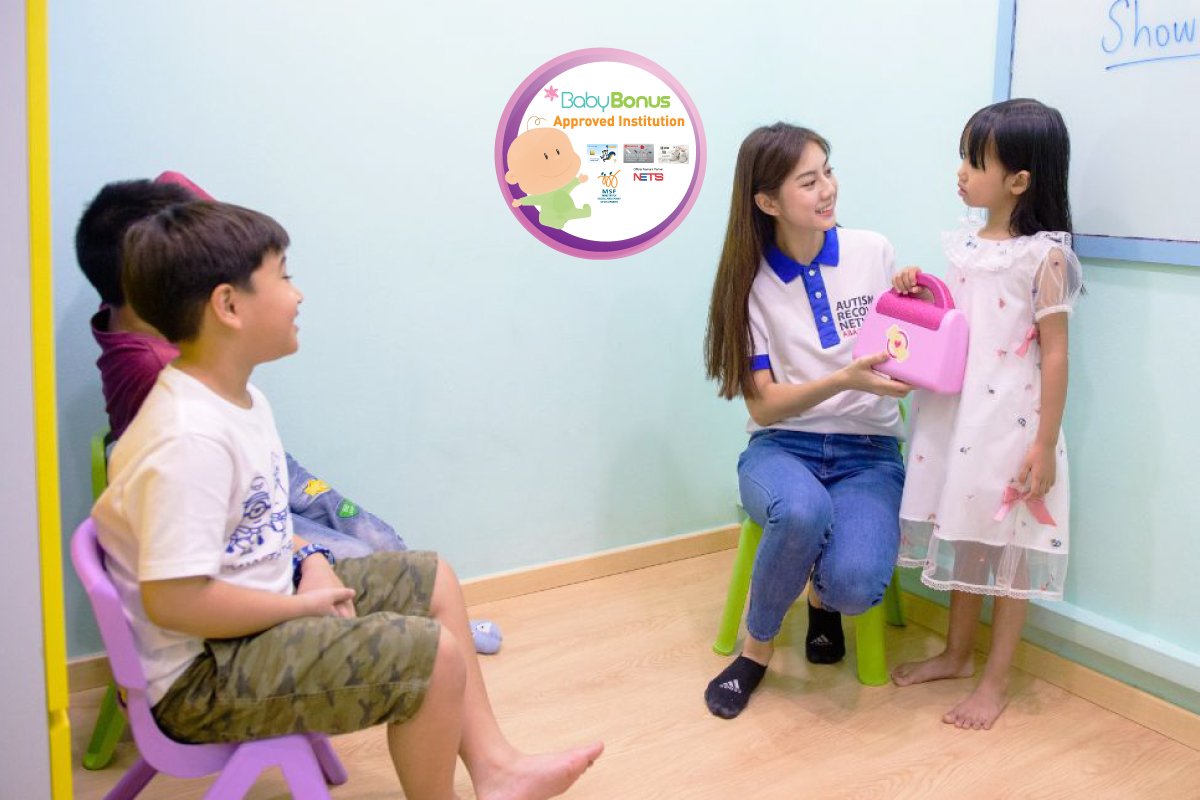 Intensive ABA Training – Our Advanced Verbal Behavior Therapy Involves:
One therapist to one child intensive ABA training

Comprehensive and holistic ABA HK curriculum individualized to your child's learning needs.

Facilitating learning through engaging activities during ABA therapy.

Tracking your child's progress in ABA training through WebABLLS/ABLLS-R.

Our ABA therapy HK supervisors monitor your child's progress every week.

Monthly meetings with parents to review your child's IEP and adjust the ABA Hong Kong curriculum accordingly.
Our intensive ABA training program is a one-on-one, all-inclusive, and highly individualised intervention that accelerates the trajectory of the development of skills in children with special needs. We put an expert instructor during ABA therapy in HK to work, who provides a stimulus to your child in order to assess skills depending on what he or she does and does not do. Moreover, we strongly believe that parents have an active role to play in applied behavior analysis in Hong Kong, so your input is taken into consideration.
Based on the results achieved from the ABLLS-R assessment, we create a holistic ABA Therapy HK curriculum that caters to your child's learning needs. Our ABA training aims to align their skills with different activities to engage them and facilitate their learning. Our ABA Hong Kong therapists track your child's progress every week to ensure they are meeting their goals and hold monthly meetings to update you. With your input, we review your child's IEP and make necessary adjustments to your child's ABA training curriculum. You can trust that we will be there at every stage of your child's development.
Home ABA Therapy in HK: Schedule, Language & Fees:
Our ABA HK therapists can also travel to your home to carry out the 1-to-1 Intensive ABA Training Programme for your child. The ABA Therapy Home Programme focuses on teaching within your child's natural environment, as well as training family members on how to teach your child effectively.
Home ABA Therapy Time:

Monday – Friday:

Morning Plan: 9:00am – 12:00pm

Afternoon Plan: Any 3-hour slot from 2.00pm – 6:30pm

Whole Day Plan: 9:00am – 12:00pm & 1:00pm – 4:00pm

Saturday: 9:00am – 12:00pm

ABA Therapy Language:

English / Cantonese

ABA Therapy HK Price (per hour)

*Please contact our ABA HK centre for most updated information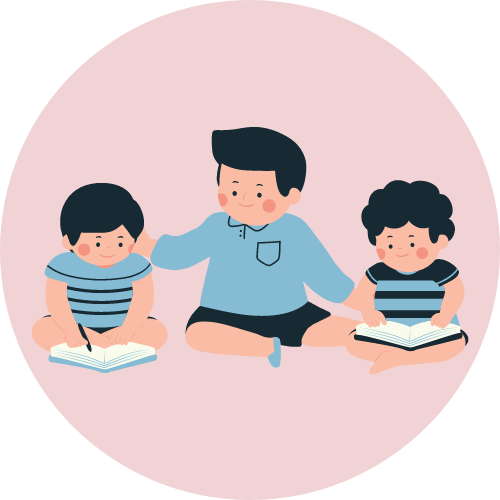 About Our ABA-VB Training & Therapy – FAQs: